This Year's Lineup
Facilitating woman-to-woman wisdom sharing, traditions and rituals are paramount to our mission at the Matriarch Rising Festival. This is why every year, we source the most talented teachers and artists we know to share their gifts with you on topics like somatic dance, womb wisdom, herbalism, radical feminism, authentic midwifery, and so much more.
Toni Jones
Toni's music is healing music, she coined it as Affirmation music. Affirmations set to modern music; which is different from the traditional way of saying Affirmations and mantras that are usually set to relaxing new age music. By creating affirmations to modern music this allows the listeners to ride, be on the go and vibe, just dance to the music while still reciting healing words.

Toni's song "Yays Coins" has become an anthem at MRF on our final night of song and dance!
Self Talk & Play Time
An interactive experiential workshop of learning the self talk language of a woman rising in her power internally that gives her space to play in her life externally.
Hanna Leigh
Hanna's music is devoted to singing the praises of this life, and the complexities of this human experience, to giving sound and song to the ineffable beauty of Nature herself, and ultimately, to being a vessel for the great repair and healing that is happening right now on Earth.
Birthing Your True Voice
What is the feeling of your truth as it sings through your body? What is that song that resonates in your heart and bones...the one that calls you home! In this workshop we will have a safe space to explore the sounds of our authentic selves...and clear the way for more embodied resonance to come through our voices. Through guided meditation and playful exercises, this workshop is designed to bring you into deeper relationship with the medicine of your singing voice. All levels welcome — (even if you don't consider yourself a "singer"!)
Marya Stark
Marya is a carrier of myth, magic, and medicine songs. She takes her audience on an imaginative, triumphant and refreshing journey through the caverns of the soul. Her songs combines folklore, looping, with orchestral arrangements and a classically trained voice.
Voice Of My Womb- Resurrecting the Ruby Songs
In this introductory 'Voice of My Womb' session, we will be learning a collection of songs gathered from the chalice center of circles of women. These songs guide us through the rites of passages of the crimson moon mysteries and the sacred blood gates on the hoop of life.
In this workshop, we are co-seeding and recieving songs to share with women's circles for generations to come.
DJ Sed the Saint
Sed The Saint is an open-format DJ who hails from the endearing city of New Orleans, Louisiana. With over a decade on the industry scene, she comes from a long familial line of jazz musicians--three generations of music lovers, makers, and performers who have traveled the world.

Sed specializes in every genre under the Soundcloud sun. Whether it's hip hop, pop, top of the Billboard charts, house, EDM or oldies, she mixes music like a spicy gumbo.
DJ Lyris aka The Hybrid Specialist
Lyris is a disc jockey hailing from Nashville, TN and now resides in Atlanta, GA. Lyris' name is derived from the word "lyric", meaning "the words of a song." With a name like Lyris, she was destined to gravitate to music, which is precisely what she did. DJ Lyris' music is mood changing and mind bending, unconfined to any boxes. It evokes a warmth that is both soulful and nostalgic. Her signature hybrid mashups give listeners permission to let go, remain present, and open up to the unknown - if only for a moment.
Sister MorningStar
Vedic Chanting
Chanting in Sanskrit, especially Peace Prayers from the Vedas, is part of Sister MorningStar's daily disciplines. We can create some beautiful sounds together using call and repeat. Let's plant our feet on the sacred earth, and raise our voices to the heavens! And raise the vibration with in us and all around us as a blessing to the global sisterhood.
Talking Stick Circle
The talking stick is a very ancient way of listening, hearing, speaking one's truth, solving and facing challenges, and making decisions as a family community or tribe. We use her in ceremony and rituals and all the places where a woman needs to speak her truth and be heard and learn to listen.
Sister MorningStar will share with you how the talking stick is used with her people and how she uses it in circles around the world. We will experience how to respect and honor the Talking Stick and we will create a sacred talking stick.
Amy Solara
Dancing the Wheel of Womanhood with the Mahavidyas
Come together as mothers, daughters, sisters and friends to dance and re-envision your life with the Womb as your center and the Mahavidyas (Wisdom goddesses of ancient India) as guides.
Through these 10 goddesses' names and stories we will create a spiraling roadmap to our deeper selves.
We will use their energy and archetypes as reflections of the lunar cycles, seasonal cycles, and menstrual cycles to tap into greater levels of creativity, strength and the Divine Feminine.
We will be doing a brief amount of journaling, guided meditation and rewriting stories, so please bring something to write with as well as clothes you feel comfortable moving in!
Jocelyn Gordon
Conscious Conception
In this Conscious Conception Circle, Jocelyn guides a class and conversation exploring the spiritual, epigenetic, and ecological implications of Conscious Conception and Preconception Preparation.
HoopYogini
Allow the hoop to become your favorite yoga prop. Experience traditional hatha yoga postures with the hoop such as Tree, Chair, Goddess Pose plus pelvis, womb and waist focused dance transitions that link each posture into a flowing dance. With the hoop held in your hands, you'll experience the hoop as a resistance tool, support for range of motion and strength building, and as a balance assist for adding new levels of joy to your dance and asana practice. Open to all - no experience required. *Bring an adult-size hoop.*
Jana Areola
Breast Health and the Lymphatic System
Ayurveda means the " Science of Life." I focus on educating and empowering you around your lymphatic system and its crucial role in supporting our immunity and breast health.
Whether you are interested in general breast tissue health, breast cancer prevention, a nursing mama, or post menopausal and wanting to support your breasts this class is designed for you.
I am part of The Areola, a passionate group of women trained by DeAnna Batdorff – committed to the path of empowering and educating women on holistic breast health. We will be teaching women how to explore, map and understand the terrain of their breast tissue and offering holistic breast checks.
Dr. Melissa Sell
The Bio-Logical Woman
The focus of this workshop is to empower women with the logic of nature. We will explore the 5 Biological Laws and how conflict shocks and different stages of life alter levels of femininity and masculinity and the impact this has on women, men, and children. We will discuss sexuality, partnership, male/female dynamics, and how the bio-logical woman is the key to saving humanity.
Kristin Hauser
Hormones and Desire: Riding the waves of your cyclical nature
Libido and desire are a result of balanced hormones and vitality. And yet, it's also true that pleasure and desire balance our hormones. Join this deep dive on hormones through the menstrual cycle as they impact desire and pleasure. Here you can discover how your hormones impact and respond to sexual expression. You are a cyclical being. Your physical body and orientation towards life isn't the same everyday, neither is your sexual expression. Drop preconceived notions, leave shame behind and let's learn together in a female only space.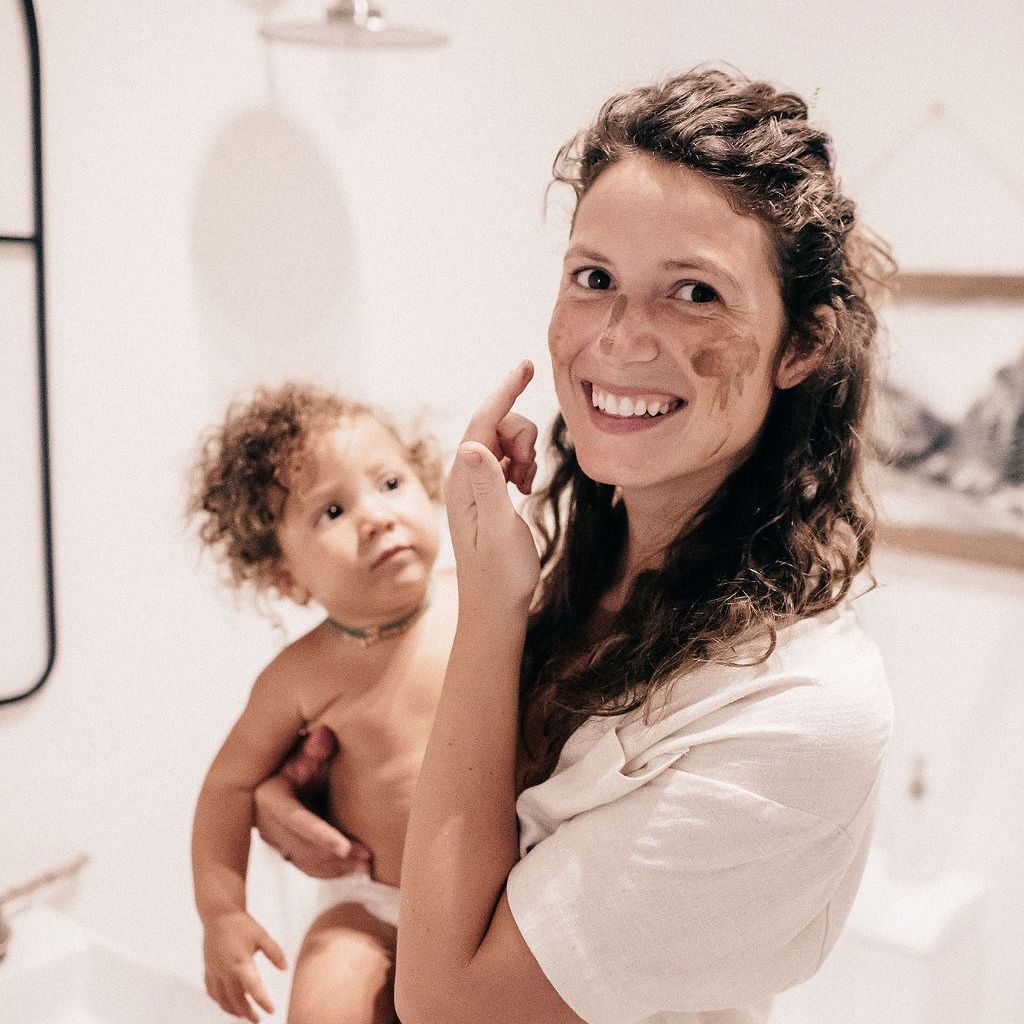 Arielle de Martinez
Sovereign Beauty and Minimalist Haircare
Hair Healer Arielle de Martinez will lead us in a workshop breaking down what beauty and ritual look like outside of unattainable beauty standards, misogynistic procedures, and toxic products. Come ready and willing to break down your idea of beauty, accept yourself as you really are, and incorporate new levels of beauty, haircare, and ritual that will improve your relationship to yourself and Mother Earth.
Emilee Saldaya & Yolande Norris-Clark
Matriarch Happy Hour
Come hang out with Em and Yo for a fun and casual discussion on wild mothering, long distance friendship, making money online, freebirth, and everything in between.
Kaila Faifili
Kava Ceremony
In South Pacific culture, Kava has a history of being drank during community gatherings and meetings to facilitate easeful communication with an open heart. Join us with Kaila Faifili, as she restores the sacred ceremony behind Kava and brings it back to the women in a traditional Kava ceremony. Expect deep relaxation and lots of laughter! *Bring your own mug*
Alexis Martin
Embodied Vinyasa Yoga
Begin your festival day with a morning yoga session! This energetic practice will invoke an awakened energy flow of your mind, body and soul to evoke clarity, peace, beauty and pure radiance from the inside out. Each class will include Sun Salutations and traditional yoga postures, breathwork, storytelling, and a short meditation - all centered on embodying the qualities of the Divine Female. Through a variety of insightful techniques & creative sequences, come create space and mobility, as well as stability and strength, for your entire body system in preparation for a full day of festival activities! Classes will be multi-level and options will be given for seasoned practitioners as well as beginners.
Through mindful movement we remember.
We remember our essence as wise, wild, and free.
Yoga is an investment in our Sacred Becoming.
Come set the tone for your festival day feeling calm, yet incredibly reenergized!
Kat Harmon
Chakra Dance
Join us in this fun, upbeat dance using easy to follow targeted dance moves to align, balance, and cleanse your energy centers. We will use different types of music to allow us to get fully embodied in the experience!
Veladya Chapman
Guided Breathwork
This guided breathwork class will include movements, chanting and prompts to ground you into the present moment and invigorate your cells with renewed life force.
Emileigh Zola
Broomcraft and Connection : Turkey Wing Whisks
More than a handcrafts class, Emileigh creates a ritual space for participants to settle in and create with intention.
Each woman will have an opportunity to craft a traditional Appalachian turkey wing whisk broom with natural materials and lots of love and prayer. Leave the class feeling connected, accomplished, and empowered to bless and cleanse your home.
Broomcraft and Connection : Hawk Tail Whisks
Each woman will have an opportunity to craft a traditional Appalachian hawk tail whisk broom with natural materials and lots of love and prayer. Leave the class feeling connected, accomplished, and empowered to bless and cleanse your home.
Lora Amber
Nude Women's Figure Drawing Class
Sit, relax, and draw the complex and beautiful details and curves of the female body. In this session you can explore your unique creative perspective through short and long poses.
This class is for all levels of experience, and will include some brief instruction at the start of class for those who are new figure drawing. We begin with shorter gestural poses of 30 seconds and build to longer poses of 15-20 minutes. All materials are supplied, however you are welcome to bring whatever delights and brings you inspiration.
Simone Sobers
The Boss Chick Dance Workout's: Twerk Basics + Flow Activation
Simone created The Boss Chick Dance Workout as a safe space for women to explore to explore the art of twerk as a fun workout, a resource for healing, and as a transformative form of therapy. The Mission of this workout is to create diverse safe spaces in the fitness industry for women to discover their power, build confidence, and experience the duality of strength and release through dance and community.
Join us for an introduction to basic twerk steps as an exploration of accessing and awakening the hips, root, and sacral chakra through an invigorating afro/soca movement session coupled with an exploration of twerk as a healing practice.
Solstice Herb Walk
Join our in-house herbalist Arielle de Martinez as she takes us on a walk discovering the sacred flora on our festival grounds. This is a walk for all experience levels, kids included! Herbalists are encouraged to join.
RadFem Tea Time
Join us for some tea and a chat with our favorite Radical Feminists, Serendipiti and Amy, as they tackle some of the cornerstones of the radical feminist movement, including porn, trans ideology, surrogacy, and more.
Song Circle
Start your morning off in song and community with our morning song circles. Song has long held a place in women's lives and routine, and has been lost along the way. Rediscover what it feels like to sing in harmony with your sisters, with no insecurity of what your voice sounds like or whether or not you know the words, and bask in the feeling of kinship and sisterhood.
Kate Varsava
Gettin' Witchy With It
Enter the sacred circle of sisterhood and call your deepest embodiment of the WITCH within to come alive. Enjoy a ritual-steeped, interactive workshop where all things witchy are a part of daily life. Learn about incorporating ritual in your day-to-day, practice tools of divination, and sit in fullness of being with your unique expression of HER: the wise one, the seeer, the midwife, the healer, the maiden, the mother, the crone. She is you, and you are her. Stoke the fires of your inner knowing and re-enter your life attuned to a power available to all women.
If you have a workshop you'd like to bring to the festival, handcrafted goods you'd like to sell, or offer bodywork or healing, please visit our Get Involved section for details on how to apply.
Sign up for the mailing list to be the first to know this year's schedule, line-up and more!